Baptism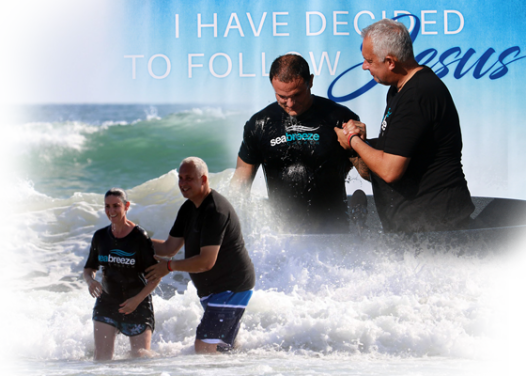 If you have made the decision to follow Jesus, baptism is your next step! However, you might have a few questions about baptism. Take a moment to read the information below and then complete the Baptism Form. Need more answers? Contact Care Pastor, Dale Graham.
WHAT IS THE MEANING OF BAPTISM?
Baptism is an important step of obedience that shows others we have personally trusted Jesus for our salvation. It illustrates Christ's burial and resurrection and life as a new Christian.
1 Corinthians 15:3-4 - For what I received I passed on to you as of first importance: that Christ died for our sins according to the Scriptures, that he was buried, that he was raised on the third day according to the Scriptures.
Colossians 2:12 - For you were buried with Christ when you were baptized. And with him you were raised to new life because you trusted the mighty power of God, who raised Christ from the dead.
Baptism is like a wedding ring – it's the outward symbol of the commitment you've made in your heart.

Romans 6:3-4 - Or have you forgotten that when we were joined with Christ Jesus in baptism, we joined him in his death? For we died and were buried with Christ by baptism. And just as Christ was raised from the dead by the glorious power of the Father, now we also may live new lives.
WHY BE BAPTIZED BY IMMERSION?
Jesus was baptized when He was on the earth, and we do this to follow His example. When Christians are baptized, they are submerged under water to identify with the death and burial of Jesus and raised out of the water to identify with His resurrection.
Matthew 3:16 - As soon as Jesus was baptized, he went up out of the water.
Every baptism in the Bible was by immersion.
Acts 8:38–39 - Both Philip and the officer went down into the water, and Philip baptized him. When they came up out of the water, the Spirit of the Lord took Philip away; the officer never saw him again. And the officer continued on his way home, full of joy.
WHO SHOULD BE BAPTIZED?
We believe that water baptism is a public declaration of three important things: you are a follower of Jesus Christ, you are beginning a changed life in Christ, and you are part of a new family.
Acts 2:41 - Those who accepted his message were baptized, and about three thousand were added to their number that day.
Acts 8:12–13 - But when they believed Philip as he preached the good news of the kingdom of God and the name of Jesus Christ, they were baptized, both men and women. Simon himself believed and was baptized.
Some churches practice a "baptism of confirmation" for infants/children. This ceremony is intended to be a covenant between the parents and God on the behalf of the child. The parents promise to raise their child in the faith until the child is old enough to make his or her own personal confession of Christ. Infant Baptism is a custom that began about 300 years after the Bible was completed. This is different from the baptism talked about in the Bible, which was only for those old enough to believe. At Seabreeze, we wait until our children are old enough to believe and understand the true meaning of baptism before we baptize them. The purpose of baptism is to publicly confess your personal commitment to Christ. If you were baptized as an infant, no problem. You will, however, need to be baptized by immersion after your personal commitment to Christ.
WHEN SHOULD I BE BAPTIZED?
There is no reason to delay. As soon as you have decided to receive Christ into your life, you can and should be baptized. If you wait until you are perfect you will never feel good enough. Baptism is a statement about the direction of your life not the condition of your life.
Acts 2:41 - Those who accepted his message were baptized, and about three thousand were added to their number that day.
Acts 8:35–38 - Philip began to speak, and starting with this same Scripture, he told the man the Good News about Jesus. While they were traveling down the road, they came to some water. The officer said, "Look, here is water. What is stopping me from being baptized?" Philip answered, "If you believe with all your heart, you can." The officer said, "I believe that Jesus Christ is the Son of God." Then the officer commanded the chariot to stop. Both Philip and the officer went down into the water, and Philip baptized him.